Large Toki with Greenstone Blade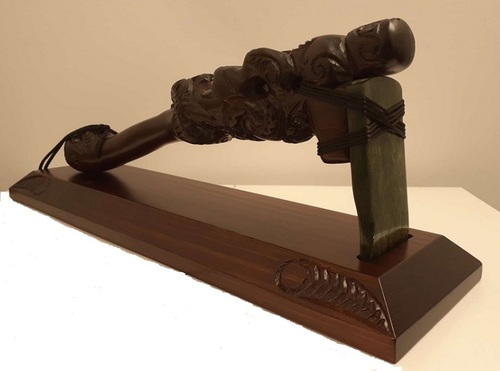 This impressive weapon is a beautiful example of Maori craftmanship.

Created using authentic New Zealand greenstone, and New Zealand timber, and intricately hand-carved, this toki, presented on a large, solid base will look impressive in any home or office.

The greenstone toki is lashed to the handle using a traditional Maori method. A small indentation in the base allows the toki to be displayed, showing off the workmanship and the beautiful depth of this taonga.

The handle of the weapon measures 44.5cm. The greenstone measures 12cm x 5.5cm and is 1.5cm thick at its thickest. The base measures 50cm x 15cm and has plenty of smooth surfaces should you wish to have it engraved.

Please note that, as each piece is hand-carved, and that no two pieces of greenstone are the same, there could be small and minor differences to the one pictured.
Same day shipping .... see more  
And we include a hand written card with your personal message.