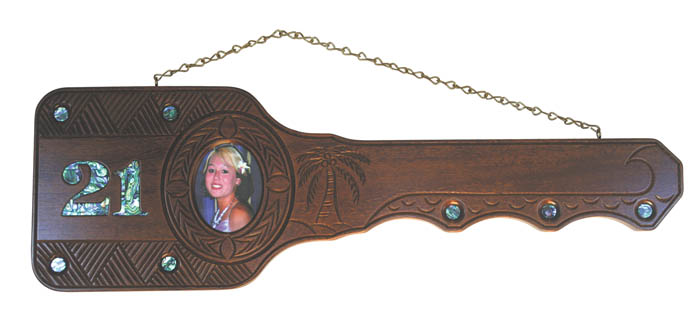 21st Key Pacifica Style

Our Pacifica Style 21st Key features a place to put your own photo and a Palm tree.

Made from Kauri and hand carved here in New Zealand by local carvers using traditional techniques.

To avoid offending any Iwi or tribal groups, the designs are generic and representative of common Maori and Island motifs.

Size: 60 cm x 19 cm

ENGRAVING
Yes this key can be engraved - please allow an extra 3-4 working days for delivery.
The cost is $2.80 per letter with a minimum cost of $28.00 (1 - 15 letters)
Paua Engraving now available at $3.50 per letter, minimum of $35.00 (1 -1 15 letters)

EG. If the name you want engraved is Hemi the cost will be $28.00 (Plain engraving).
The number of letters in a name effects how big the name can be carved.