21st Key with pen for signatures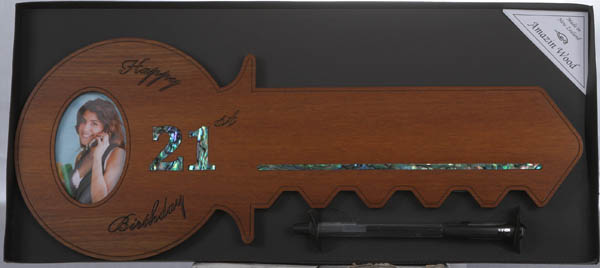 21st Key with pen for signatures

Made in New Zealand from Rimu Veneer and NZ Paua, our 21st key comes in a black box with clear top and includes a pen for signing.

**Please note our key looks very dark in this photo, the Rimu Veener is like the small photo of the 60th key.**

Size: 38.5 cm long x 15 cm wide
Photo size: 4.6 cm wide x 7.5 cm high

Yes it can be engraved, Paua engraving looks the best.
Same day shipping .... see more  
Plus we gift wrap free of charge and include a hand written card with your personal message.
Engraving Notes: 
Add your engraving using the Engraving Options Box below (1-15 Letters).
Plain engraving is $28.00.  
Paua engraving is $35.00.
EG. If the name you want engraved is Hemi this will cost $28.00 in plain or $35.00 in Paua. 
Please allow an extra 3-4 days for engraving. 

Please see our engraving links below if you need more than 15 letters.