Willow Tree Figurine Mother and Son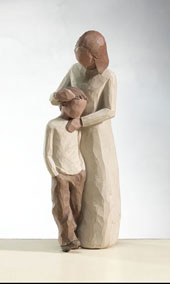 Willow Tree Mother and Son

Message - Celebrating the bond of love between Mothers and Sons.
Size: 200mm (8') high

Here's what Susan Lordi has to say about creating this piece -

"I was thinking about the relationship between a mother and a son of about nine or ten — that certain age when boys start fiercely asserting their independence — and resisting hugs and kisses from their mothers. And yet, at the same time, secretly needing and wanting them. I wanted this sculpture to express that push and pull. Liking the touch but at the same time, pulling away."
Willow Tree is an intimate line of figurative sculptures that speak in quiet ways to heal, comfort, protect and inspire.This piece is cast from Susan Lordi's original carving and then painted by hand.
Expression is revealed through gestures only ... a tilt of the head, placement of the hands, a turn of the body. The simplicity of form and the absence of facial features signify Willow Tree.

Willow Tree figurines come packaged in their own branded boxes filled with polystyrene so are suitable for posting/shipping world wide, and we'll gift wrap them for you at no charge.
Same day shipping .... see more
Plus we gift wrap free of charge and include a hand written card with your personal message.