Willow Tree Figurine Quest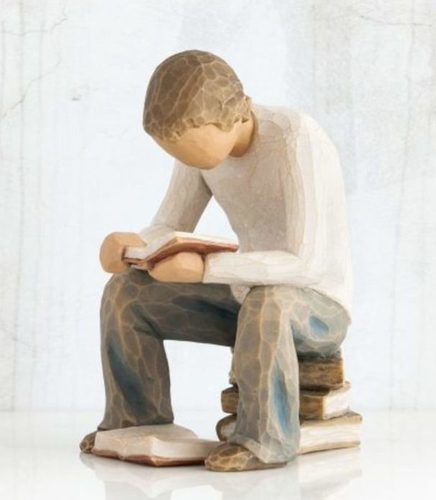 Willow Tree
Quest
Message: Seek, explore, discover
Size: 10.5cm high

The artist, Susan Lordi, has captured that moment where you are so absorbed in a book that you are unaware of the world around you - the joy of getting lost in a book. Whether it be learning or entering a fictional world of an author's imagination.

We think this is a great gift for the dreamer, the academic or for someone who just loves learning.
Willow Tree is an intimate line of figurative sculptures that speak in quiet ways to heal, comfort, protect and inspire.This piece is cast from Susan Lordi's original carving and then painted by hand.
Expression is revealed through gestures only ... a tilt of the head, placement of the hands, a turn of the body. The simplicity of form and the absence of facial features signify Willow Tree.
Willow Tree figurines come packaged in their own branded boxes, and are suitable for posting/shipping world wide, and we'll gift wrap them for you at no charge.
Care: Dust with a soft cloth or brush. Avoid water or cleaning solvents.
Same day shipping .... see more 
Plus we gift wrap free of charge and include a hand written card with your personal message.