Willow Tree Figurine Chrysalis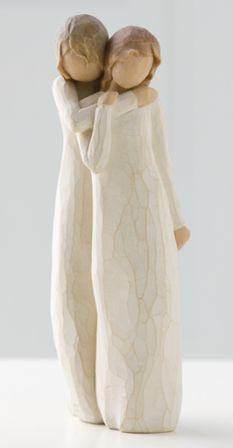 Chrysalis
Protect and cherish; give wings to fly.

Size: 225mm high (9")

This is what Susan Lordi says about this piece -
A chrysalis is the protective covering in which a caterpillar develops into a butterfly. The title is a metaphor for the relationship between a mother and her teen-age daughter — a time of letting go, in support of emerging independence. A mother's first response is to protect her child. But the greater gift is to provide the love and trust that helps her daughter find wings to fly. The emphasis on this piece is on the daughter. It's her emerging, her transformation, her unfolding. The title is illustrative of this particular time of life.
Willow Tree is an intimate line of figurative sculptures that speak in quiet ways to heal, comfort, protect and inspire.This piece is cast from Susan Lordi's original carving and then painted by hand.
Expression is revealed through gestures only ... a tilt of the head, placement of the hands, a turn of the body. The simplicity of form and the absence of facial features signify Willow Tree.

Willow Tree figurines come packaged in their own branded boxes filled with polystyrene so are suitable for posting/shipping world wide.