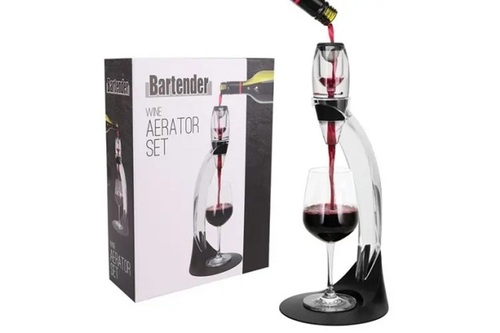 Pour the perfect glass of red wine in an instant with the Bartender Wine Aerator Set. The technology designed to speed up the oxidation process, aerates the wine, allowing compounds to soften to create a smoother, more enjoyable texture, while releasing delectable aromas.

Whether pouring the wine into your favourite glass, decanter or carafe, this Wine Aerator Set is easy to use; simply pout the wine from the bottle through the aerator, utilisng a removable sediment filter, this aerator allows the wine to breathe, enhancing the wine with the precise amount or air required for that perfect tasting glass.

The stand provides a stable base to allow wine to be poured with one hand with a limited chance of spills.

This stylish aerator not only looks good in any kitchen or home bar, it is BPA-free, easy to clean and disassembled for easy storage. The aerator can be used with or without the stand, making it easy to take away when you're travelling.

Handwash only.

Set includes:
1 x Aerator
1 x Stand
1 x Aerator base
1 x Drop tray strainer
1 x Travel pouch

Fully assembled stands 39cm tall.
Same day shipping .... see more  
Plus we gift wrap free of charge and include a hand written card with your personal message.