Willow Tree Figurine With My Grandmother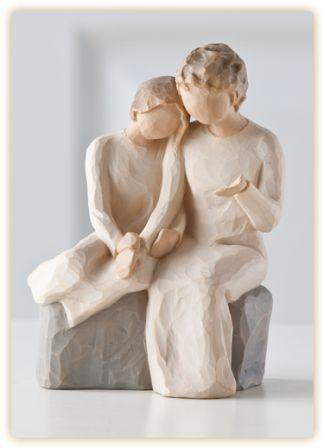 Willow Tree With My Grandmother

Message "The best gift is time spent with you"

Susan Lordi says "I carved this piece directly from my memory of time spent with my own grandmother. Sitting down with her, holding her hand, turning her wedding rings, asking questions about her life and listening to her stories. I've always been interested in oral history and the passing down of stories from one generation to the next. I think learning from those who have come before helps define who we are — it grounds us. Their story is our story."

Willow Tree is an intimate line of figurative sculptures that speak in quiet ways to heal, comfort, protect and inspire.This piece is cast from Susan Lordi's original carving and then painted by hand.
Expression is revealed through gestures only ... a tilt of the head, placement of the hands, a turn of the body. The simplicity of form and the absence of facial features signify Willow Tree.
Same day shipping .... see more
Plus we gift wrap free of charge and include a hand written card with your personal message.