Willow Tree The Christmas Story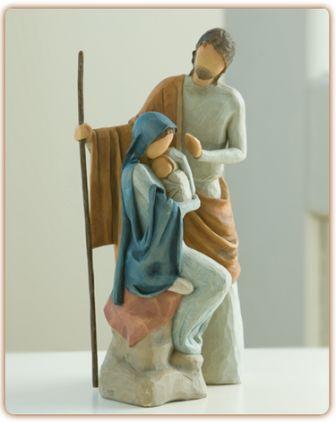 Willow Tree The Christmas Story

The Christmas Story is the largest scale nativity set created by Susan Lordi of Willow Tree.

**Please note this figurine has a broken stick which we have mended and you can't see - but it has been broken just above Joseph's hand**

The expressive gestures of Mary and Joseph reveal their humanity, and portray their overwhelming emotion of love and protection for their newborn child.

The figures are nearly 15" tall, and painted with richly layered colours. The elegant movement of Mary's and Joseph's garments, and their protective gestures bring this composition to the highest levels of sculptural art.

Mary is turned in toward Joseph, sheltered by his right arm. Joseph's staff and cloak form a protective shield around his new family. Joseph's left hand, positioned above the head of baby Jesus, shadows the curve of Mary's wrist.

Size: The two figures are approx. 375mm (15") tall.