Willow Tree Figurine Tapestry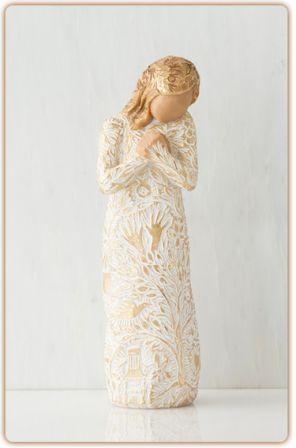 Willow Tree Figurine Tapestry

Message: A tapestry of memories... beautifully woven, deeply loved.
Size: 12.5 cm (5")

Susan Lordi says ...
"This piece is very much about healing. Her gesture is protective. While carving the relief pattern on her dress, I just kept carving... I wanted to push the message further, so I kept going, surrounding her with nature and everyday objects—metaphorical of a life well lived. The carved icons reflect our connections to those we love. Our story is one we share with others, all woven together, as in a tapestry. When we lose someone special, our shared experiences and memories become all the more precious to us."
Willow Tree is an intimate line of figurative sculptures that speak in quiet ways to heal, comfort, protect and inspire.This piece is cast from Susan Lordi's original carving and then painted by hand. Expression is revealed through gestures only ... a tilt of the head, placement of the hands, a turn of the body. The simplicity of form and the absence of facial features signify Willow Tree.
Willow Tree figurines come packaged in their own branded boxes filled with polystyrene so are suitable for posting/shipping world wide, and we'll gift wrap them for you at no charge.
Same day shipping .... see more 
Plus we gift wrap free of charge and include a hand written card with your personal message.