Sophie the Giraffe - Natural Teething Toy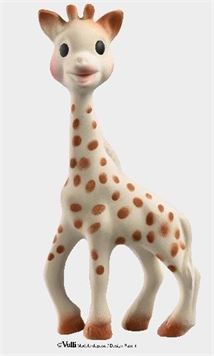 Sophie the Giraffe

Sophie the Giraffe is a 100% Natural Teething Toy made by Vulli in France.

Born in France in 1961, Sophie the Giraffe has been part of babies' lives for 50 years. Each Sophie the Giraffe made today, still requires a total of 14 manual operations. Sophie the Giraffe is made of 100% natural rubber from the Hevea tree giving her a pleasant distinctive smell. She is painted with natural food paint. Sophie is also BPA and phthalates free.

Sophie the Giraffe is specifically designed to stimulate all five of a baby's senses. She is slender, flexible and soft, your baby can squeeze and chew her in complete safety. Lovable and amusing, she makes a happy sound when squeezed which stimulates hearing and helps your baby to understand the link between cause and effect. She is perfect for soothing sore gums when teething. Your child will love Sophie!

Size: 17 cm high
Comes in a gift box and we will gift wrap for you at no extra cost.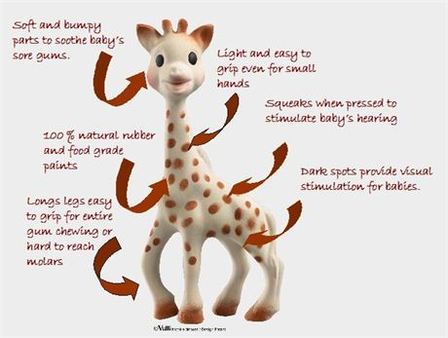 Same day shipping .... see more 
Plus we gift wrap free of charge and include a hand written card with your personal message.

See our full range of Sophie the Giraffe on our dedicated baby website
Made from 100% natural rubber derived from the sap of the Hevea tree.
Natural Rubber is soft, safe & non-toxic for baby to teethe & chew.
Lightweight & easy to grasp for tiny hands.
Painted with non-toxic, food-grade paints.
Stimulating to baby's senses with her soft colors & gentle squeak.
Bumpy head helps soothe sore, teething gums.
Sophie the Giraffe is Phthalate-Free with No Vinyl (no-PVC!)
17cm Tall (7")
Suitable from 0 months +
Comes in a gift box