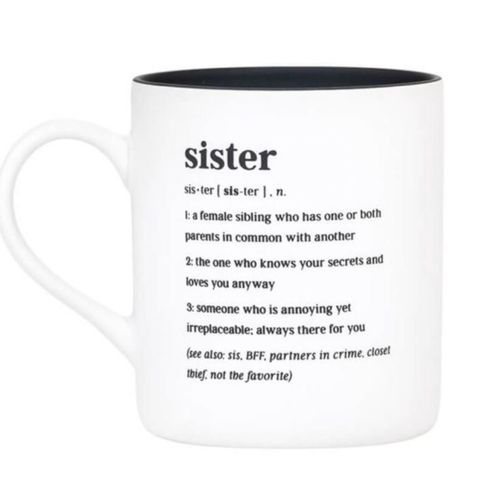 Life is how you define it!

This Sister mug features an original definition that gives new meaning to everyday life. This high-quality, extra large and durable stoneware mug makes a perfect gift for your favourite sister to show how much you care!

Caption reads:
sister 
sis•ter [ sis-ter ] , n.
1: a female sibling who has one or both parents in common with another 
2: the one who knows your secrets and loves you anyway 
3: someone who is annoying yet irreplaceable; always there for you (see also: sis, BFF, partners in crime, closet thief, not the favourite).

Dishwasher and Microwave safe.

Size: 11cm high. 10cm diameter.
Volume: 590ml
Same day shipping .... see more 
Plus we gift wrap free of charge and include a hand written card with your personal message.