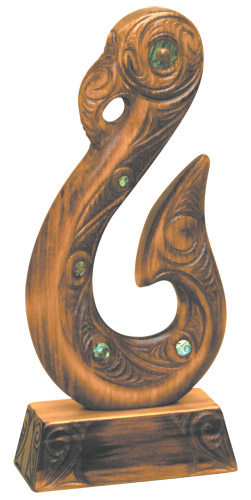 Matua

Proudly made and hand carved here in New Zealand.
Our Matua is a stylized fish hook.
Please note each Matua is hand carved and there might be very slight variances in carving and colour.

According to Maori legend the North Island of New Zealand was once a huge fish that was caught by the great mariner Maui using a bone hook on a woven line.

Our Matau represents strength, good luck and safe travel across water.

Size: Matau - 27 cm high x 13.3 cm wide at widest point
Size: Matau and Base combined - 31 cm high
Base size - 14 cm wide at the bottom x 4 cm high

ENGRAVING - Base only
Please write the name you want engraved in the "Instructions" box at checkout time.
Same day shipping .... see more 
Plus we gift wrap free of charge and include a hand written card with your personal message.
ENGRAVING - Base only 
Engraving Notes: 
Add your engraving using the Engraving Options Box below (1-15 Letters).
Plain engraving is $28.00.  
Paua engraving is $35.00.
EG. If the name you want engraved is Hemi this will cost $28.00 in plain or $35.00 in Paua. 
Please allow an extra 3-4 days for engraving. 

Please see our engraving links below if you need more than 15 letters.