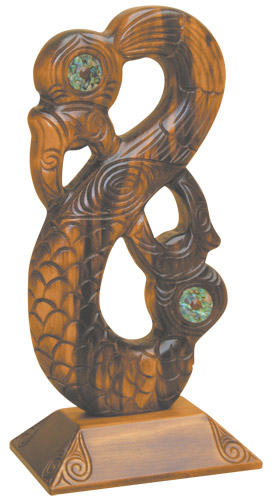 Manaia

Our Manaia is hand carved here in New Zealand from Kauri timber and sits on a matching base.
Please note each Manaia is hand carved and there might be very slight variances in carving and colour. (Our photo is showing dark lines in the wood, current stock is an overall golden colour).

The Manaia is a supernatural being depicted with the head of a bird, the body of a man and the tail of a fish, representing sky, earth and sea.

It has the role of a guardian or messenger from the heavens. The more manaia there are on a carving the more tapu (sacred) it becomes.

Manaia can be found on vessels, weapons and ornaments.

Overall size: - 41cm high x 19.5cm wide

ENGRAVING - Base Only
Please write the name you want engraved in the "Instructions" box at checkout time.
Same day shipping .... see more 
Plus we gift wrap free of charge and include a hand written card with your personal message.
ENGRAVING - Base only 
Engraving Notes: 
Add your engraving using the Engraving Options Box below (1-15 Letters).
Plain engraving is $28.00.  
Paua engraving is $35.00.
EG. If the name you want engraved is Hemi this will cost $28.00 in plain or $35.00 in Paua. 
Please allow an extra 3-4 days for engraving. 

Please see our engraving links below if you need more than 15 letters.