Lothlorian Open Finger Glove Natural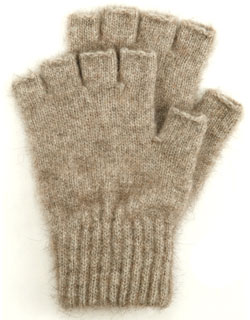 Lothlorian Open Finger Glove Natural

New Zealand Possum fibre is the newest rare natural fibre in the world. It is one of the finest and softest fibres that nature produces, yet it has amazing wearing characteristics.

Possum fibre is hollow so this glove is very light but extremely warm for its weight.
Blending with Merino wool gives the possum fibre strength.

50% Merino Wool, 40% Possum Fibre, 10% Nylon

Available in 3 sizes - small, medium and large. ***Sorry, Medium is out of stock***

Care: Wash gently in cool water, gentle spin. Dry flat. Do not hang or tumble dry.
Same day shipping .... see more 
Plus we gift wrap free of charge and include a hand written card with your personal message.