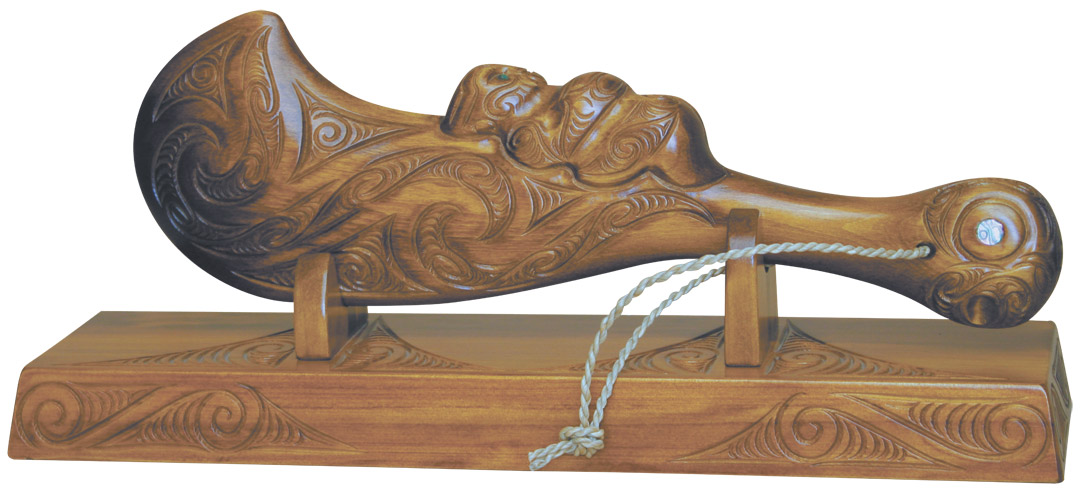 Large Wahaika and Base

This stunning piece makes a great ornament, trophy or presentation piece. This type of weapon is ceremonial and practical. Waha-ika means the mouth of the fish. If you look at the shape of the weapon it looks like the shape of a whales' lower jaw bone. Many waha-ika have a small figure carved on the side. This figure would be a guardian to the owner and would often be a venerated ancestor.

Our Large Wahaika is made from Kauri and hand carved here in New Zealand by local carvers using traditional techniques. It sits on a matching base.

To avoid offending any Iwi or tribal groups, the designs are generic and representative of common Maori and Island motifs.

Wahaika Size: 45 cm x 13 cm x 4 cm
Base Size: 50 cm x 14 cm x 4 cm

ENGRAVING - Base Only
See below for engraving information.
Same day shipping .... see more 
Plus we gift wrap free of charge and include a hand written card with your personal message.
Engraving Notes
Add your engraving using the Engraving Options Box above (1-18 Letters).
Plain engraving is a minimum of $35.00.  
Paua engraving is a minimum $40.00.
Eg. If the name you want engraved is Hemi or HEMI this will cost $35.00 in plain or $40.00 in Paua. 
If you need more letters or numbers please use our engraving links below to purchase extra letters.
Please write your engraving in the "Text to Engrave" box as you want it to apper - eg: Hemi or HEMI - Upper case or lower case with the first letter a capital.
Please note we can not accept any returns for engraved items, please check your spelling carefully.

Fonts - We prefer to use Iowan font, we are able to use many fonts, although Paua engraving does not work with thin fonts.
We normally let the engravers choose the best look but if you have a particular font you'd like please let us know.
We can do a combination of Paua and plain engraving - eg: a date often looks better smaller and in plain engraving underneath a name space permitting.
Please note the number of letters will effect how big the name can be engraved
No refunds on engraved/personalised items.
Please allow an extra 3-4 days for engraving. 
Or please email michelle@giftguru.co.nz or phone (+64 9 4596070) us if you need help.