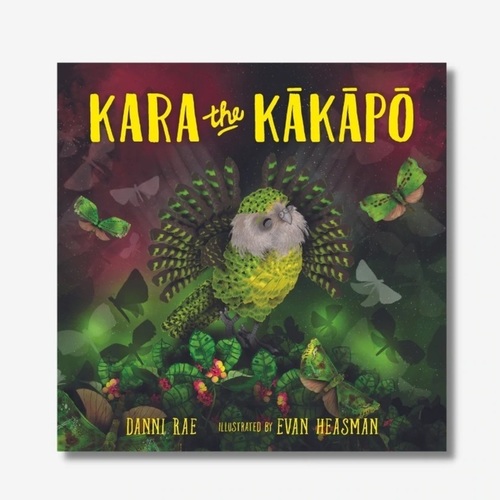 The most beautiful children's book we've seen this year! We are big fans of the Northland illustrator, Evan Heasman (a.k.a. Soju Shots) here at Gift Guru, so we had high hopes for this book. Our expectations were exceeded as the Wellington based author, Danni Rae's lovely story did Evan's artwork justice.

"Kara the Kakapo"
AUTHOR: Danni Rae
ILLUSTRATOR: Evan Heasman

No matter how hard she would try, Kara from Kakapo just couldn't quite seem to master the art of flying. But with optimism, determination and a little creative thinking can Kara still achieve her dream?

Danni wrote Kara the Kākāpō, which is the first in a series of animal adventures, as a
way to share her passion for conservation with the youngest of readers.

"As a zookeeper each day I have the opportunity to talk to children about the wonders of animals and conservation. I wanted to use this book as a way to allow children to connect with these animals at home as well," says Danni.

DIMENSIONS: 220 mm x 220 mm
PAGES: 24
ABOUT THE AUTHOR:
Danni is a Wellington based zookeeper and conservationist with a passion for connecting children with animals and the environment.
She has worked in Australia, New Zealand and Madagascar and wants to use her experience to inspire conservation connections through her engaging and educational animal adventure stories.
When she isn't working, Danni can be found writing, reading, hiking and traveling!
ABOUT THE ILLUSTRATOR:
Evan Heasman (also known by the artist name Soju Shots) is an illustrator who takes great inspiration from nature and fairytales.
He uses a combination of pen, watercolour, photography and digital mediums to create his characters and the magical worlds they come from.
He works between his home in beautiful Waipu and his little studio in Whangarei.
Same day shipping .... see more 
Plus we gift wrap free of charge and include a hand written card with your personal message.