Gardeners Gift Box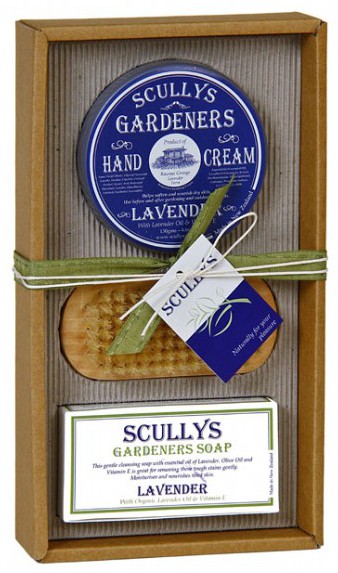 Gardeners Gift Box

The perfect gift for the avid Gardner - containing Gardeners Hand Cream and Gardeners Soap, with a wooden nail brush, ideal for getting that dirt out from under your fingers.
Same day shipping .... see more 
Plus we gift wrap free of charge and include a hand written card with your personal message.
Gardeners Hand Cream
Great for use after gardening or other outdoor pursuits, this soothing protective cream is rich in Vitamin E and essential oil of Lavender. Helps repair dry and damaged skin leaving hands soft and smooth. Free of parabens this non-greasy and fast absorbing cream is perfect for all skin types.
Ingredients:
Deionised water, decyl oleate, cetyl alcohol, glycerin, stearic acid, glycerol stearate, lanolin, dimethicone, iso propyl myristate, sorbitol, triethanolamine, lavender oil, phenoxyethanol, pottasium sorbate, panthenol, vitamin E, carmasine, blue #1.
Garderners Soap
Our Olive Oil soap cleans your skin without stripping away the natural oils so you don't end up dry and flaky after it's use.With essential oils of lavender and vitamin E it is the perfect solution for removing those tough stains gently. Moisturises and nourishes tired hardworking skin.
Ingredients:
Sodium Palmate, sodium cocoate, water, glycerin, lavender oil, sodium chloride, wheatgerm oil, olive oil, titanium di-oxide, sodium etidronate, tetrasodium EDTA, acid yellow, food red, food blue.