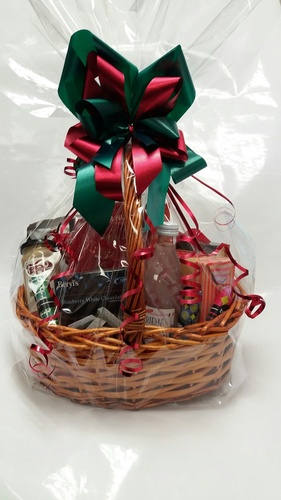 Kiwi Gift Basket

Lots of treats to eat and share with friends.

Coconut and Banana Granola Bites 125g
Salted Caramel Popcorn 80g
Sweet & Salty Nuts 110g
Chili and Lime Cashew Nuts 35g
Pistachio & Cheddar Savoury Bites 100g
Chocolate Coated Almonds 80g
Cacoa Cashews 35g
362 Beer & Bacon Ketchup 250ml
Tea Sips Tea Bags
Macadamia Butter Shortbread Bites 100g
Crunchy N' Cheesy Savoury Bites 150g
362 Bacon Mayonnaise 200g
Coconut Crispy Rolls Cocoa dipped 65g
2 x Choc-O-Nut Biscotti Sticks 25g each

Ribbon and Bow Choices - choose from Paua, Green/Red, Blue Silver or Black and Gold.
Same day shipping .... see more 
And we include a hand written card with your personal message.