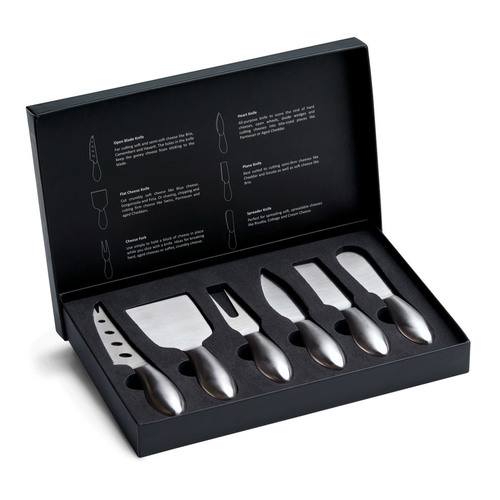 Cheese, cheese, cheese, cheese!

Now here's tbe perfect gift for us cheese lovers. Whatever the cheese, this beautifully presented box has the knife for the job.

Set of 6 Stainless Steel cheese knives.

Icludes;
- Open Blade Knife - 15cm - For cutting soft and semi-soft cheese like Brie, Camembert and Havarti

- Flat Cheese Knife - 13cm - Cut crumbly soft cheese like Blue, Gorgonzola and Feta, or shave frim cheese like Swiss, Parmesan and aged cheddars

- Cheese Fork - 13cm - Use to hold cheese in place or to break hard cheeses

- Heart Knife - 13.5cm - All purpose knife to score the rind of hard cheeses, open wheels, divide wedges and cut cheeses into bite-sized pieces

- Plane Knife - 13cm - Best suited to cutting semi-firm cheeses like Cheddar and Gouda as well as soft cheeses like Brie

- Spreader Knife - 13cm - PErfect for spreading soft, spreadable cheeses like Ricotta, Cottage and Cream Cheese.

cheese fork, plane knife, 13.5cm heart knife and spreader knife

Comes in a two part presentation box as shown.

Box Size:: 25cm W x 3cm H x 17.5cm D
Same day shipping .... see more 
Plus we gift wrap free of charge and include a hand written card with your personal message.