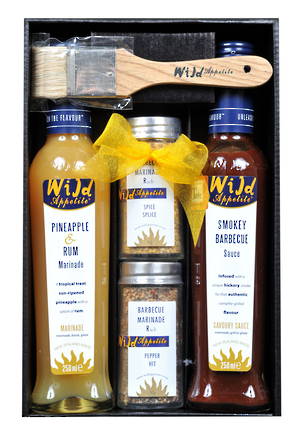 BBQ Marinade Gift Pack

Our great BBQ Marinade pack by Wild Appetite makes the perfect gift for the man or woman who loves barbequing.

This black gift box has a clear PVC lid and we'll gift wrap it for you free of charge.

The BBQ Marinade Gift Pack Contains: -
1x 250ml Pineapple & Rum Marinade,
1 x 250ml Smokey BBQ Sauce,
1 x 50g Spice Splice BBQ Rub,
1 x 50g Pepper Hit BBQ Rub.
1 x brush
Same day shipping .... see more 
Plus we gift wrap free of charge and include a hand written card with your personal message.